Adding users by file upload
As the admin user in your organization, you are able to manage your organization's roster through Vim console, and upload a group of up to 200 users from a CSV file.
All actions are performed through the Console, however, in order to perform them, you must obtain login credentials from your Vim account manager or the Vim focal point in your organization.
Log in to the Console may include two-factor authentication, for security purposes, and will require access to your email or phone.
Adding users by file upload
After logging in to Vim Console, click on the "Users" tab in the menu on the lefthand side of your screen
Click on the "Upload users" button
Upload the file containing the user list
Click on the submit button
You will receive an email containing a list of users that were created, and a list of users that could not be created.
Please note:
The file must contain titles, and be in a CSV format
On top of the file upload page there is an explanation of the file structure and mandatory fields
EHR username – in this field please specify the existing EHR username of the person you are adding as a user to Vim. This connection will help to automatically connect the user to his Vim account
Please make sure to add a correct email and phone number – this fields are critical when using a single sign on login methods, or when signing in using Vim credentials
The address fields is meant for the place of business address – the clinic address for example
Full flow
The users tab in the lefthand menu: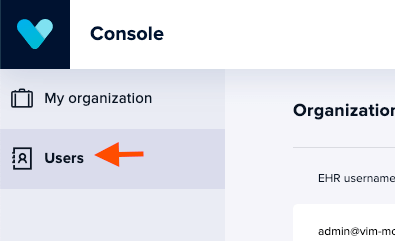 Upload users button on top of the screen in the users page:

Upload users interface: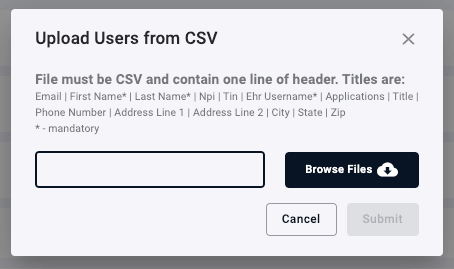 Questions? Contact your Vim representative or reach us at [email protected]